Meet Katie Bernhardt, PA-C
Katie joined Southside Dermatology & Laser Cosmetic Center after graduating as valedictorian with a Master of Clinical Medical Sciences and Physician Assistant Studies from Barry University. She received her Bachelor's degree in biology and exercise science & nutrition from Florida State University. Katie is certified by the National Commission on Certification of Physician Assistants (NCCPA) and is a member of the National and Florida Society of Dermatology Physician Assistants chapters.
Katie has a passion for the field of dermatology. She loves attending specialized conferences to stay current on all the cutting-edge advances in dermatology. Katie is excited to see her patients for both medical and aesthetic concerns and uses her knowledge to tailor the perfect blend of both approaches for each patient.
Originally from the Tampa area, she now lives in Jacksonville with her husband and dog. She enjoys traveling, exploring new restaurants, spending time with friends and family, completing DIY projects, and watching football games (especially the Florida State Seminoles).
---
Meet Lorie Carter, APRN, MSN, FNP-BC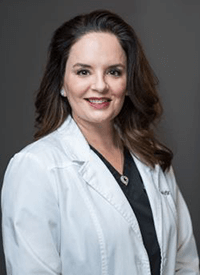 Lorie is a board-certified family nurse practitioner with extensive training in aesthetics. She received her master's degree from the University of North Florida. As a family nurse practitioner, she has worked both in family medicine as well as aesthetics for many years.
Her goal is to help each patient feel and look better while maintaining a natural look that is not overdone. Her integrity, work ethic, and love for what she does have made her exceptional at her work.
Lorie has been in Jacksonville for over 20 years and is a proud wife and mother of three beautiful children. In her free time, Lorie enjoys quality family time, watching her kids in their sporting events, going to the beach, attending church, reading, and cooking. Lorie looks forward to helping make Jacksonville more beautiful, one face at a time!
---
Meet Jenifer George, APRN
Jenifer Scott George is an Advanced Practice Registered Nurse (APRN), board-certified in family care (FNP-BC), and is a health practitioner diplomate with the American Board of Anti-Aging Health Practitioners (ABAAHP) with the American Academy of Anti-Aging Medicine. She graduated magna cum laude from the University of North Florida where she first earned her Bachelor of Science in nursing, then her Master of Science in nursing for primary care nurse practitioner. Jenifer has dedicated her career to plastic and reconstructive surgery, as well as aesthetic and integrative medicine. Her 23+ years of experience include the first 13 years of her career at Mayo Clinic Jacksonville in the department of plastic and reconstructive surgery, subsequently entering the private sector to expand her skill set. Her advanced repertoire includes aesthetic and integrative medicine.
Jenifer's commitment to health promotion and prevention earned her an induction into the Honor Society of Nursing, Sigma Theta Tau International, plus an Award of Achievement from the National Scholars Honor Society. She is an alumna of Mayo School of Health Sciences and a professional member of the National Scholars Honor Society and Northeast Florida Advanced Registered Nurse Practitioners.
"Aging is a multifaceted process that begins at the cellular level. Accelerated aging manifests in unwanted physical signs and symptoms, as well as undesired changes in our appearance. My medical experience allows me to implement an aesthetic plan to generate optimal age-related changes that build on and enhance my patients' intrinsic beauty. I am pleased to join my energies, expertise, and enthusiasm with Dr. Mary Pentel and her team."
---
Meet Julia Clarkson, DPN, APRN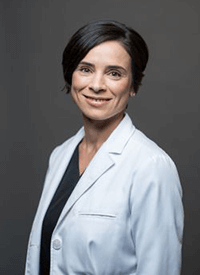 Julia moved to Jacksonville in 2005 after earning her bachelor's in nursing from Florida State University. She later earned her Doctorate in Nursing Practice (DNP) from the University of Florida. Prior to entering the cosmetic field, she specialized in operating room nursing at St. Vincent's Medical Center, as well as ICU nursing at the Mayo Clinic. She is a Family Nurse Practitioner - Board Certified (FNP-BC) through the Florida Board of Nursing and the American Nurses Credentialing Center.
As an Advanced Registered Nurse Practitioner (ARNP), Julia loves to share in the transformations of her patients achieving improved confidence, appearance, and overall well-being. Her passion for helping others and her technical skills from her operating room experience make her the perfect fit for dermatology procedures.
Outside of work, Julia loves spending time with her two girls and her husband. She enjoys going to the beach, doing yoga, eating delicious food, and traveling.
---
Meet Arleen Chadha, Licensed Aesthetician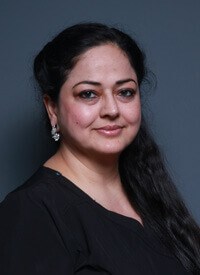 Arleen received her degree in skin care from the Alpha School of Massage. She has 20 years of experience in the field of customer service and believes in providing exceptional services to her clients by customizing plans based on individual skin types and conditions.
Her dedication to making her clients look and feel their best has moved her career from fashion designer to aesthetician. Her goal is to educate her clients and provide treatments that will achieve long term results.
Arleen enjoys spending her free time with her husband and two beautiful children. She is actively involved in community affairs, and her hobbies include design, choreography, travel, reading, and meditation.
---
Meet May Nguyen, Lisenced Full Specialist
May, our licensed full specialist and permanent makeup artist, has been in the aesthetic industry for over 15 years. She attended the American Academy of Cosmetology. In addition to her aesthetic skills, she performs professional eyelash extensions, microblading, permanent makeup application, and facial and body waxing. May uses her aesthetic artistry when applying permanent make-up to achieve a natural look.
With her many skills, May truly delivers a head-to-toe exceptional treatment session. She enjoys getting to know her clients' unique needs and then tailoring a plan suitable to their specific skin type.
In her free time, May enjoys cooking and spending quality time with her husband and three children.
---
Meet Ashley Jenkins, Full Body Specialist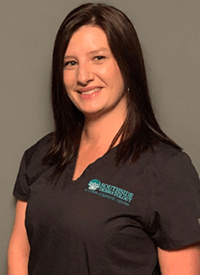 Ashley has worked in the healthcare field for over 18 years. She received her degree from Florida State College of Jacksonville in health information management and is a certified medical assistant. She has also received certifications in CoolSculpting and truSculpt.
Ashley has a passion for the field of dermatology and body contouring. Her goal is to assist patients in achieving maximum results to look and feel their best.
Ashley has three beautiful daughters. In her free time, she is involved in their cheerleading, weightlifting, and competitive dance activities. She also enjoys refurbishing vintage furniture, fishing, and camping.
---
Meet Judi Moise, LICENSED AESTHETICIAN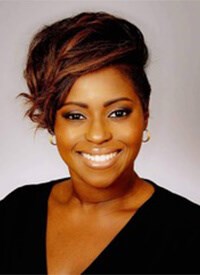 Judi is a Highly Reputable Licensed Aesthetician + Skin Educator with over 15 years' experience in the beauty industry. Judi's extensive education consists of ingredient knowledge, advanced facials treatments, light, and electrotherapy. Judi has worked in medical aesthetics to advance her skincare experience, giving, and educating image-conscious individuals the full approach to long term skin wellness.
Judi began Make-Up application in 2003 at MAC Cosmetics where she was introduced to aesthetics. With her expanding clientele, Judi has applied Make-Up for local executives, cast members, bridal parties, and more. Judi continued her education and graduated from Heritage Institute receiving her Associate of Science Degree in Esthetics, 2009. After graduation, Judi worked alongside reputable physicians as a Licensed Medical Aesthetician. Judi treated post-operative laser, Fraxel, Botox, and other cosmetic surgery patients by maintaining their investments with customized facials protocols and skincare regimens. After several years in the industry, Judi received her Bachelor of Applied Science, Supervision & Management to incorporate Business & Beauty for the ultimate skin experience.
Today, Judi continues to educate herself with the latest technology and breakthroughs in aesthetics. Judi is also an educator to new students in the industry, ensuring the integrity of theory and technique is consistently executed. With her experience, she utilizes the information to address her clients' concerns and educate them to continue long term skin wellness.
---
Related Posts