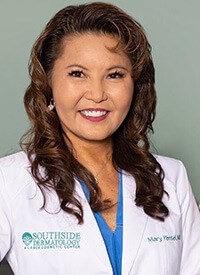 Dr. Mary Pentel is a board-certified dermatologist and dermatologic surgeon in Jacksonville, FL who specializes in cosmetic and medical skin care. She is the founder and owner of Southside Dermatology & Laser Cosmetic Center and was featured in Jacksonville Magazine 2019 as one of the top dermatologists in the region. Over the years, she has treated thousands of patients and is well known among them for her vibrant energy, charming humor, and passion for dermatology. She attributes her great success to her commitment to listening and understanding her patients' needs so that she can provide the best and most appropriate care possible.
Dr. Pentel strives to exceed her patients' expectations in general, cosmetic, and medical dermatology. She is highly trained and skilled in a variety of laser technologies and procedures in addition to cosmetic injectables. She is also known for performing minor dermatological surgeries to remove skin cancer, moles, and skin lesions. She offers comprehensive consultations and enjoys combining aesthetic care with proven science to achieve natural, radiant results. Dr. Pentel has been selected by Galderma to train other professionals in the art of injectables.
Dr. Pentel completed her undergraduate and graduate education at Pennsylvania State University at the top of her class with membership in the Alpha Omega Alpha Medical Honor Society. After completing medical school, she served her dermatology residency at Brown University in Providence, RI, where she also served as chief resident.
Dr. Pentel is honored to be a member of the following organizations:
American Academy of Dermatology (AAD)
American Society for MOHS Surgery (ASMS)
American Society for Dermatologic Surgery (ASDS)
American Society for Laser Medicine & Surgery (ASMLS)
Jacksonville Dermatological Society
Dr. Pentel is very active in her community and serves in many local organizations, including civic and educational boards. She has also created and held multiple fundraising events, including Purses With A Purpose (www.pursewithapurpose.org) to benefit the abused women of Hubbard House and the Smart Kids Program to raise awareness for skin cancer in children. Dr. Pentel also founded Hope for a Better Life, a 501 (c)(3) nonprofit organization whose mission is to improve the lives of adults and children in North East Florida.
---
Meet Dr. John Mavropoulos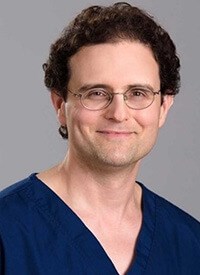 Dr. John Mavropoulos, M.D., M.P.H., Ph.D., (affectionately called Dr. Mav or Dr. John by his patients) is a board-certified Dermatologist and a fellowship-trained Mohs micrographic surgeon and member of the American College of Mohs Surgery. Dr. Mav earned a Bachelors of Science degree in Chemistry at the University of Chicago and then completed his M.D. and Ph.D. degrees at Duke University while simultaneously obtaining a Master's in Public Health (M.P.H.) degree in Nutrition and Epidemiology at the University of North Carolina in Chapel Hill. Following medical school, Dr. Mav completed his residency in Dermatology at John Hopkins Medical Center in Baltimore, Maryland and then expanded his training with an intensive one-year, Mohs micrographic surgery/Procedural Dermatology fellowship at Virginia Commonwealth University. During his medical training, Dr. Mav published numerous scientific articles and studies in peer-reviewed scientific and medical journals and continues to have a strong interest in clinical research. During his free time, Dr. Mav enjoys working, running, biking, weight-lifting, cooking, eating, teaching, reading, traveling, and spending time with friends and family.
---
Meet Carmen Ramirez-Boyd, APRN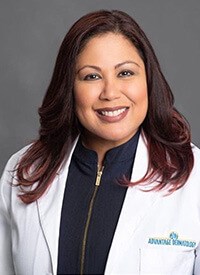 Carmen is a family nurse practitioner board certified through AANP since 2008. She received her bachelors of science in nursing from Youngstown State University in 2000 and graduated with her masters from Kent State University in 2008. She practiced in emergency medicine and for the past 9 years she has been in dermatology providing medical and aesthetic services in Ohio and Florida. She also is a member of FLANP, SDNP, AANP, ASLMS. She also was a yearly guest lecturer for dermatology at both Youngstown State University and Kent State University graduate students.
She loves going on humanitarian medical missions trips both nationally and internationally. Loves spending time with her husband and children.
---
Meet Kristin Doyle, MSN, APRN, FNP-BC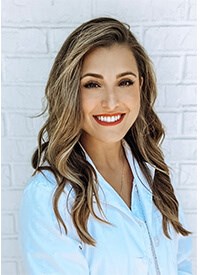 After graduating from The Florida State University with a Bachelor of Science in Dietetics, Kristin moved to the Jacksonville area to attend The University of North Florida's Accelerated Nursing Program. After achieving her Bachelor of Science in Nursing (BSN) she began her nursing career at Mayo Clinic where for seven years she specialized in inpatient surgical nursing. While working at Mayo, Kristin received a scholarship to attain a Master of Science in Nursing (MSN) from Jacksonville University. She graduated as a Family Nurse Practitioner – Board Certified (FNP-BC) through the Florida Board of Nursing and the American Nurses Credentialing Center (ANCC).
Kristin has a passion for Cosmetic Dermatology and is excited to be a part of the Southside Dermatology Team. She enjoys working to educate her patients in order to create personalized treatment plans. Her specialties includes the use of injectables and lasers, in conjunction with application of complimentary topical products to achieve optimal results.
Originally from the Clearwater area Kristin loves boating, taking walks on the beach with her greyhound, and watching the Tampa Bay Lightning and FSU Seminoles. She has a passion for travel, exercise and considers herself a "foodie."
---
Meet Whitley Simpson, MPAS, PA-C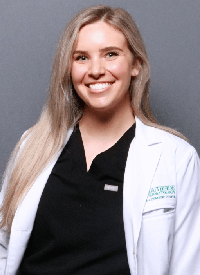 Whitley joined Southside Dermatology and Laser Cosmetic Center after graduating from the physician assistant program at the University of Florida. She received her bachelor's degree in health science from the University of Central Florida. Whitley is certified by the National Commission on Certification of Physicians Assistants (NCCPA). Prior to PA school, Whitley worked as a dermatology medical assistant and certified dermatology technician where she gained valuable knowledge and developed a passion for the field. Her dermatological interests include acne, annual skin checks, and preventative patient education as well as cosmetic and aesthetic procedures including lasers and neurotoxins.
Originally from the Panhandle, Whitley has lived in Jacksonville for the past 3 years and completed her clinical rotations at UF Health of Jacksonville. In her free time, she loves the beach and boating (with lots of sunscreen), being active, and spending time with her husband and two shih tzus, Bentley and Kirby.
---
Reviews
"Dr. Sosa is one of the best and most compassionate doctors that I have seen in many years. The staff at the office are very nice, knowledgeable, and helpful also. I highly recommend Dr. Sosa for your dermatology needs."
J.P.
Google
"I have been coming to Southside Dermatology for 20 years. They are professional but fun and thorough! Being a lifelong resident of Florida the sun has done its damage but Dr. Pentel and her staff have brought me through skin cancer and taught me the right way to enjoy our Florida sun... I highly recommend them for your family..."
E.A.
Google
"Dr. Pentel spent time with me during my appt to listen and i never felt rushed. Enjoyed my visit with the team and very helpful"
H.S.
Google
"The diamond glow facial does its job of out with the old and in with the new. That same evening, my skin felt radiant, hydrated, plumped up!! Karen did an amazing job. She was both professional and enjoyable. It's definitely a non-invasive procedure... This facial is a great option for significant events when you desire that radiant glow and your inner beauty to shine ;)"
M.A.
Google
"My skin and skincare regime have improved so much since I started coming here. I have oily acne prone stressed skin. I started with Arlene and along with my facials, she picked out products that are suited for my skin type. When Arlene left, I got assigned to May and she has really pushed it further with helping me get results! She is so sweet and knowledgeable!! I highly recommend the hydra facial and derma-planning, it's less time and faster results. Things don't improve overnight but trust the process and trust them and you will see a difference in your skin. You have to do your part too with being consistent with your skincare regime or you are just waiting your money. Everyone is so nice in the office and they let you know of specials they have coming up."
D.P.
Google
Related Posts