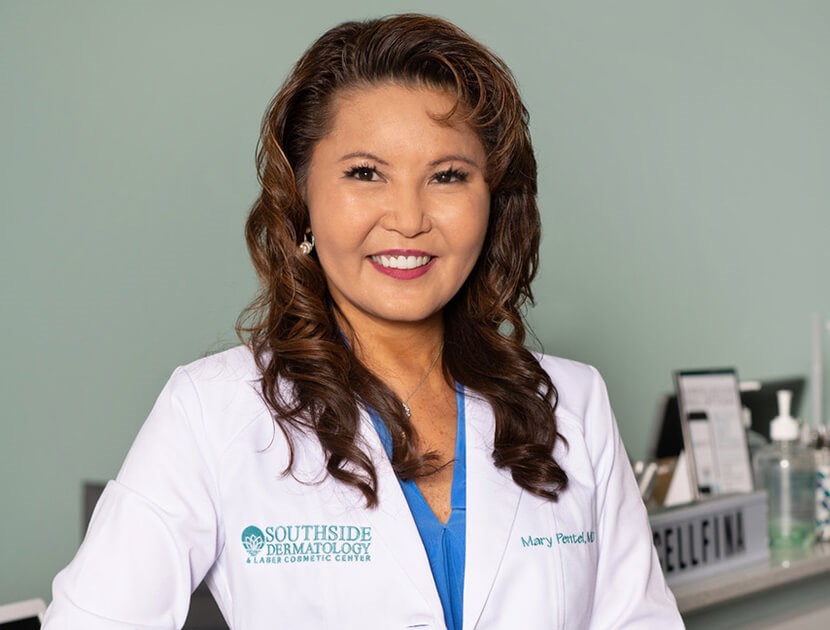 Dr. Mary Pentel is a board-certified dermatologist and dermatologic surgeon in Jacksonville, FL who specializes in cosmetic and medical skin care. She is the founder and owner of Southside Dermatology & Laser Cosmetic Center and was featured in Jacksonville Magazine 2019 as one of the top dermatologists in the region. Over the years, she has treated thousands of patients and is well known among them for her vibrant energy, charming humor, and passion for dermatology. She attributes her great success to her commitment to listening and understanding her patients' needs so that she can provide the best and most appropriate care possible.
Dr. Pentel strives to exceed her patients' expectations in general, cosmetic, and medical dermatology. She is highly trained and skilled in a variety of laser technologies and procedures in addition to cosmetic injectables. She is also known for performing minor dermatological surgeries to remove skin cancer, moles, and skin lesions. She offers comprehensive consultations and enjoys combining aesthetic care with proven science to achieve natural, radiant results. Dr. Pentel has been selected by Galderma to train other professionals in the art of injectables.
Dr. Pentel completed her undergraduate and graduate education at Pennsylvania State University at the top of her class with membership in the Alpha Omega Alpha Medical Honor Society. After completing medical school, she served her dermatology residency at Brown University in Providence, RI, where she also served as chief resident.
Dr. Pentel is honored to be a member of the following organizations:
American Academy of Dermatology (AAD)
American Society for MOHS Surgery (ASMS)
American Society for Dermatologic Surgery (ASDS)
American Society for Laser Medicine & Surgery (ASMLS)
Jacksonville Dermatological Society
Humanitarian and Volunteer Work
Dr. Pentel is very active in her community and serves in many local organizations, including civic and educational boards. She has also created and held multiple fundraising events, including Purses With A Purpose (www.pursewithapurpose.org) to benefit the abused women of Hubbard House and the Smart Kids Program to raise awareness for skin cancer in children. Dr. Pentel also founded Hope for a Better Life, a 501 (c)(3) nonprofit organization whose mission is to improve the lives of adults and children in North East Florida.
Reviews
"I have been a patient of Dr. Mary Pentel for about 10 years. During this time she has performed many procedures for me. She not only is great in terms of her specialty, she always makes me feel as though I am part of her family when it comes to the special care she has given to me. I have referred many friends to Southside Dermatology and will continue to do so. Every one of them is well pleased with the attention and treatment they have received. I am very happy to have the opportunity to write this review and express how very pleased my experience has been with this outstanding Doctor. All of the staff at Southside Dermatology have always been very polite and respectful. Do not hesitate to place your confidence in Southside Dermatology."
D.E.
Google
"I have been her patient since near the beginning of her practice. She has detected all my cancers at very early stage so they could be easily treated. I had an issue the other morning so I called and was promptly seen and treated correctly that afternoon. Her NP knows what she's doing & when I need to see the doctor, I do. I've never had financial problems or been mistreated in any way. Staff is friendly and kind and concerned for you, too!"
J.B.
Healthgrades
"Always profession. I feel as though I am cared for as a patient with the best medical knowledge possible. Spotless office and met with a smile. Thank you for taking care of my families dermotology needs."
A.T.
Healthgrades
"I have been going to Dr. Pentel for years and she is awesome!! Her staff is kind and efficient. I would highly recommend this practice."
K.J.
Healthgrades
"Always professional friendly service for the front desk, the techs and Dr. Debbie, always explains every procedure."
Anonymous
Healthgrades
Related Posts