Acne in adolescents and adults can cause embarrassment and unsightly future scars. Thankfully, acne treatment devices for mild, moderate, and severe acne have made great strides in recent years. At Southside Dermatology & Laser Cosmetic Center, we are proud to offer AviClear, the first FDA-cleared device for laser acne treatment. It helps both minimize current acne and prevent future breakouts. AviClear is safe for all skin types, is noninvasive, and has been designed with patient comfort in mind. Contact our Jacksonville, FL office to schedule a consultation and learn more about how board-certified dermatologist Dr. Mary Pentel and her skilled team can treat your acne with AviClear.
Reviews
"Friendly and knowledgeable staff."
- B.S. /
Google /
Feb 29, 2020
"Great service ! Thx you. Lori and Carmen are the best!"
- K.L. /
Google /
Dec 12, 2020
"Friendly staff - felt comfortable discussing skin issues and finding a resolution."
- A.L. /
Google /
Dec 08, 2020
"Professional, no pressure, good quality service and products"
- K.D. /
Google /
Dec 06, 2020
"Dr. Pentel is awesome. It was a quick lip filler but she was detail. Would definitely recommend and all the staff are sweet and very welcoming. Trying to save figure out what I do next but let me save first lol"
- M.L. /
Yelp /
Dec 02, 2020
Previous
Next
Who is a Candidate for AviClear?
Those afflicted with acne are usually adolescents, but acne can present in many age groups, including adults. Candidates for AviClear at Southside Dermatology & Laser Cosmetic Center are individuals in all age groups who have mild, moderate, or severe acne. The treatment is available without a prescription, but it may be best for Jacksonville, FL patients with chronic acne who have unsuccessfully tried other options to treat acne, such as oral antibiotics, chemical peels, topical creams, or other laser technologies. Additionally, AviClear is effective on all skin types and variations of acne. To confirm if you are a good candidate, schedule an appointment with Dr. Pentel and her team today.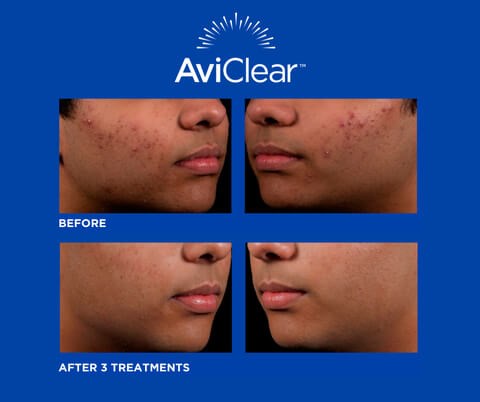 How is AviClear Performed?
AviClear treatment performed at Southside Dermatology & Laser Cosmetic Center uses laser light energy to treat acne at the source. AviClear is more effective than other laser treatments available on the market because it safely targets the sebaceous glands, which produce the oily substance — sebum — that combines with dead skin cells to produce acne.
After consultation and confirmation that AviClear is right for you. Dr. Pentel or a skilled member of her team will clean the treatment area and begin to use the AviClear device. You may feel a snapping sensation when the AviClear laser is used on your skin. However, AviClear is also equipped with the AviCool system, which means you won't feel the heat from the device, and the process will be comfortable and noninvasive. One session lasts just 30 minutes, with two subsequent 30-minute sessions to be spaced approximately four weeks apart at our Jacksonville, FL office.
What Should I Expect Following AviClear Treatment?
You should feel no pain or discomfort following an AviClear treatment session at Southside Dermatology & Laser Cosmetic Center and can resume your normal activities immediately. You may be recommended or prescribed a gentle cleanser for your face and be asked to use sunscreen when outside for seven days following treatment. Patients have usually shown dramatic improvements three months following their last AviClear treatment, but because the device targets acne production at the source, results are likely to improve over time, and any future acne outbreaks are very likely to be less severe than those prior to AviClear treatment.
Clearer Skin and More Confidence
If you have mild, moderate, or severe acne, AviClear can help remove the blemishes and keep them away. The brand-new treatment performed by Dr. Pentel and her team at Southside Dermatology & Laser Cosmetic Center can help you gain both clearer skin and everyday confidence with just three 30-minute sessions. Contact our Jacksonville, FL office today to learn more about how this first-of-its-kind device can change your appearance for the better.